A groundbreaking alliance between ChatGPT and Bing promises to radically transform the way you browse the web. Find out how this technological merger will change your life.
A revolutionary integration for an optimized user experience
ChatGPT, the conversation tool developed by OpenAI, is about to take a new step in technological innovation. Starting this Tuesday, ChatGPT Plus users will be able to benefit from an unprecedented integration with the search engine Bing. This merger, announced by Microsoft on its blog, promises to make ChatGPT responses even more relevant and up-to-date, thanks to direct access to online information.
"Our fantastic partnership with OpenAI is fundamental to our progress with the new Bing," said Yusuf Mehdi, head of consumer marketing at Microsoft. The integration means that ChatGPT responses will now be able to draw on recent web searches and data, giving users an optimized search experience.
Successful collaboration for a major technology advance
The integration is the result of a multimillion-dollar collaboration agreement between Microsoft and OpenAI earlier this year. Until now, ChatGPT responses were limited to information collected through September 2021. Through this new alliance with Bing, ChatGPT will now be able to provide responses based on up-to-date web information.
Microsoft also confirmed that Bing will be able to use the same plugins as ChatGPT in the future. This means that developers will be able to create and submit plugins that will work on both commercial and mainstream products. This includes ChatGPT, Bing, Dynamics 365 Copilot, Microsoft 365 Copilot and Windows Copilot.
A shared plugin platform for an enhanced user experience
As part of this shared plugins platform, Bing will integrate services such as Expedia, Instacart, Kayak, Klarna, Redfin, TripAdvisor and Zillow into its ecosystem, in addition to OpenTable and Wolfram Alpha. These plugins integrated directly into its chatbot will allow Bing to make relevant recommendations based on conversations with users.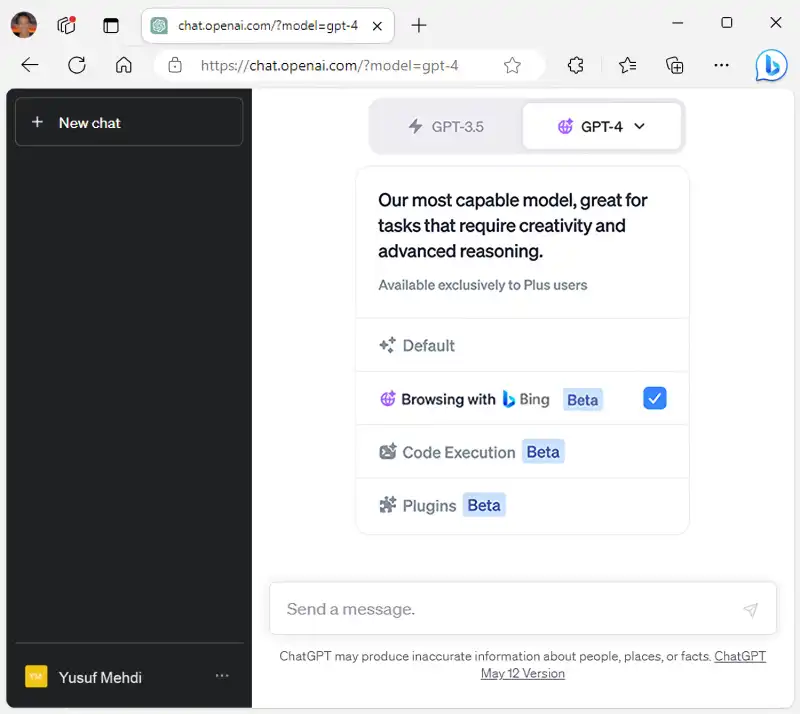 "This becomes even more powerful on mobile devices when you are on the go with the Bing mobile app," the company said. With Instacart, for example, you'll soon be able to turn your dinner menu into a shopping list and place an order via an online store, all thanks to Bing's chatbot.
Endless possibilities for an unprecedented user experience
Microsoft also highlighted the possibility of a "conversational travel planning" experience through Expedia or TripAdvisor. Imagine being able to plan your next trip directly from Bing chat, getting personalized recommendations based on your previous conversations.
These new features will be available in Bing chat or in the Edge sidebar on both desktop and mobile in the coming weeks. "We're excited about the new opportunities this creates for both developers and consumers," concluded Yusuf Mehdi.
So this Bing integration with ChatGPT promises to revolutionize your online search experience, making information more accessible and relevant than ever before. Get ready to experience the web like you've never seen it before!
Summary