OpenAI strikes a blow by offering ChatGPT users new privacy options to protect their data and ensure a more secure and ethical use. Learn about these new features and how to activate them.
Take control of your privacy with ChatGPT!
Now you can keep your ChatGPT conversations to yourself with new privacy options. OpenAI has announced Last Tuesday the implementation of a new setting that allows users to disable the history of their discussions. When this option is disabled, content shared with ChatGPT will not be used to enhance the model. In addition, conversations will be retained for 30 days before being permanently deleted from OpenAI systems.
Prior to this update, the only way to prevent your data from being shared with the model was to fill out a form accessible via a link in an OpenAI privacy policy article. Now it is much easier and more accessible to disable data sharing.
ChatGPT strengthens security in response to privacy issues
This update comes after a recent privacy breach and increased ethical and regulatory concerns about the protection of ChatGPT users' data. The breach temporarily exposed users' personal and financial data to other Internet users. As a result, Italy has banned ChatGPT for non-compliance with European regulations of the GDPR (General Data Protection Regulation). In addition, a complaint has been filed with the Federal Trade Commission (FTC) for violation of misinformation laws.
OpenAI has since committed to strengthening the security and privacy of ChatGPT, stating that they will "continue to improve security precautions as our AI systems evolve."
ChatGPT Business: a solution for professionals
OpenAI also announced the development of a ChatGPT Business subscription, aimed at professionals who want more control over their data and companies that want to manage end users. The ChatGPT Business subscription will be subject to OpenAI's data usage policy, which does not allow sharing of chat content with its model.
The new offering is a breath of fresh air for companies worried about employees using ChatGPT, as was the case for Samsung when employees inadvertently shared confidential code with the chatbot. OpenAI plans to launch the ChatGPT Business subscription in the coming months.
How to disable Chat GPT chat history?
To change your ChatGPT account settings, click on your username, then click on settings. In the window that opens, click "Show" if your "Data Controls" are hidden. This will reveal a button to disable chat history and model training. Press this button to disable this feature.
Chat history settings in ChatGPT
Disable "Chat History & Training" to stop sharing your data with the model.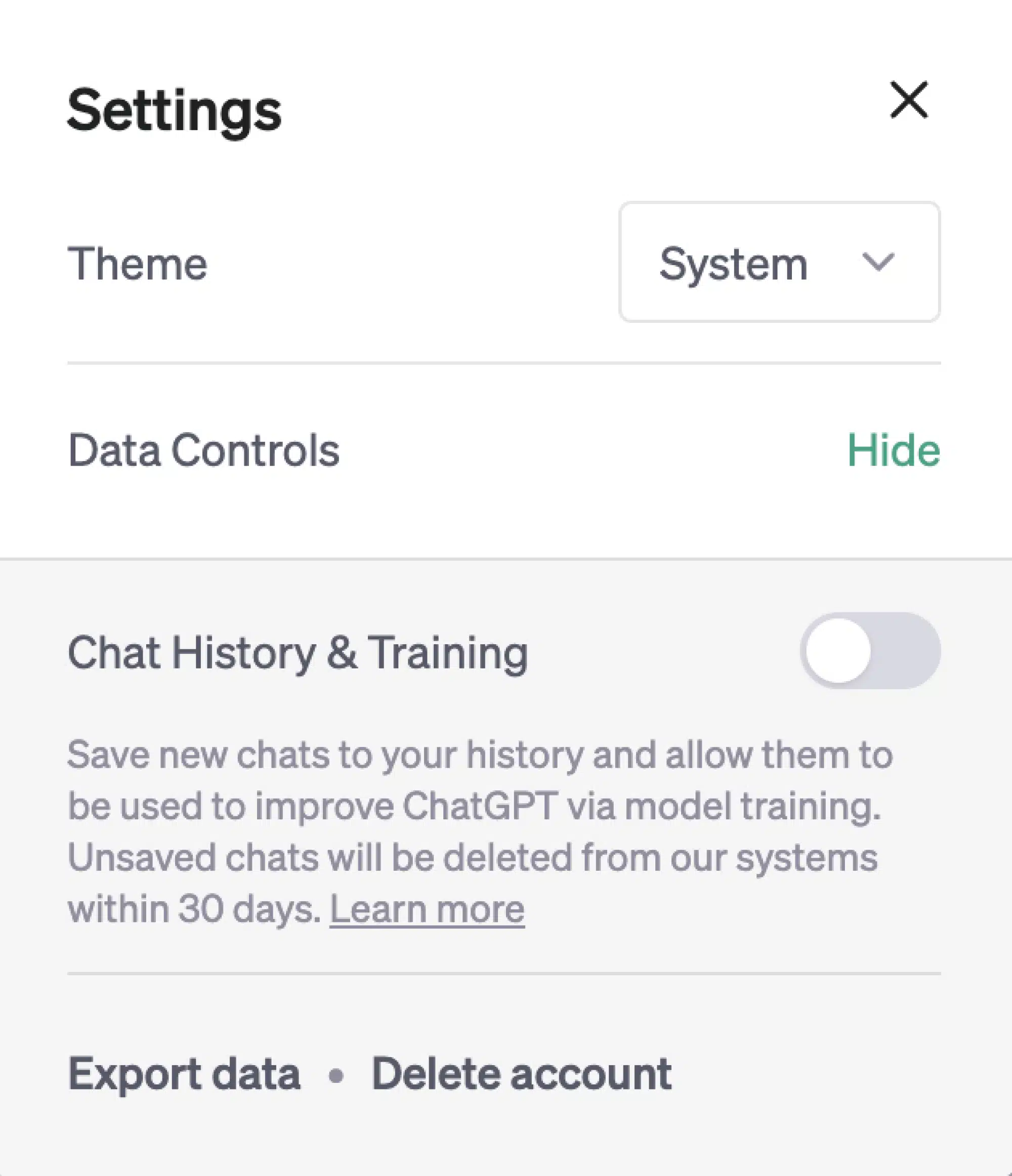 In conclusion, ChatGPT's new privacy options offer a more secure and ethical user experience. Take control of your data today by enabling these settings and discovering the benefits of ChatGPT Business for professionals and businesses.
Summary