Find out how Gmail is joining the trend of blue badge account verifications and how it differs from the approach taken by Twitter.
Account Verification Comes to Gmail
Gmail is following in Twitter's footsteps by implementing account verification, which will include a blue badge and an alert indicating that it is a safe sender. Verifications have become a must on social networks, and the Twitter Blue scandal has brought them to the forefront. Gmail has decided to follow the trend by adding a blue badge on selected accounts.
Unlike Twitter, Gmail will not charge users to add the blue badge to their name. Google has announced that verification badges will appear on accounts using BIMI, a standard that authenticates messages to prevent phishing and identity theft attacks.

BIMI, a security for senders and recipients
BIMI (Brand Indicators for Message Identification) is a specification that allows a brand logo to be added to authenticated messages from the sender's domain. To do this, the company must enable DMARC protection and verify its image, which will then be displayed as an avatar next to the username. Gmail has published a detailed list of steps to take advantage of this feature.
Although Gmail's blue badge is new, the BIMI program to verify account authenticity began its first tests in 2020. A year later, it was opened to all Google Workspace and G-Suite accounts. Today's update is another step to prevent users from falling victim to spoofing attacks.
Checks on Gmail: a real need or an ego issue?
Until recently, blue verification badges on services like Twitter or Instagram were reserved for public figures or companies. That changed with the arrival of Elon Musk as head of Twitter, who shook up the rules of the game with the launch of Twitter Blue. Check-in fever has prompted other companies to follow suit, although Gmail is taking a different approach.
Email verification is based on two goals: avoiding impersonation attacks and making sure the message doesn't land in the spam inbox. In order for a sender to get their blue badge on Gmail, they will have to pass DMARC authentication checks. These ensure that there is no domain spoofing, thus preventing phishing and spoofing emails.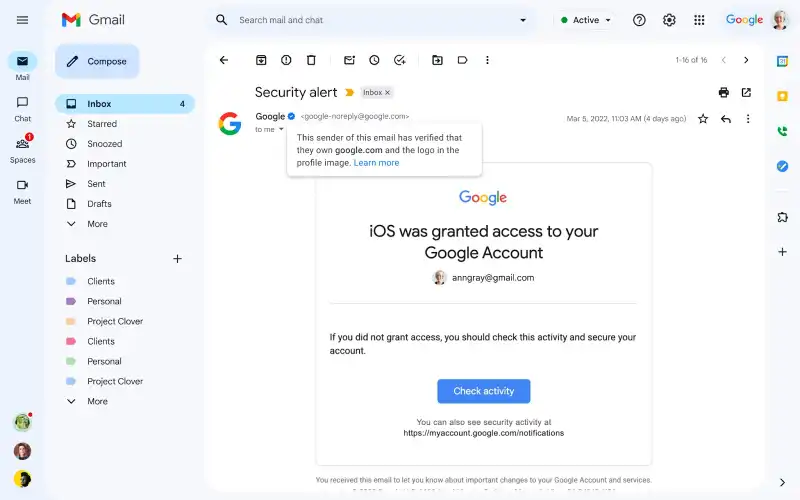 Strong email authentication helps users and email security systems identify and stop spam, and also allows senders to leverage brand trust. This builds trust in email sources and provides readers with an immersive experience, creating a better email ecosystem for all.
Unlike Twitter, verification on Gmail isn't about flattering the sender's ego, it's about confirming that they are legitimate. The next time you get an email with a blue badge, you'll be sure it's from Amazon and not some scammer in India trying to steal your Prime Video credentials. Gmail verifications are available today for all Google Workspace and G-Suite accounts. Unfortunately, users with personal accounts will not be able to access the blue badge, but will be able to view it in their inbox.
Summary
I'm a big fan of short stories about people – I'm a pro at tech and smartphones, serial literature, and writing in my spare time.