Zeus, a three years old grey and brown great dane, has beaten the Guinness record of the biggest dog in the world. He lives in Bedford, Texas.
Zeus, an American Great Dane, has the honor of being the world's largest living dog and has been recognized as such by the Guinness Book of World Records. He is three years old and lives with his owner, Brittany Davis, in Bedford, Texas (USA). He is more than one meter tall, 46 centimeters taller than her and weighs 90 kilos.
He has been large since he was a puppy, but his size is due not only to his genetics but also to his diet, as he eats 12 servings of large-breed dog food a day, which comes at a high financial cost in terms of care. However, Davis' family has been thrilled with Zeus since he arrived at their home in February 2020, at just eight weeks old.
At first glance, Zeus' large size may seem a bit scary, as many people can't believe that he is actually a dog. In fact, Davis' friends and neighbors joke that Zeus could be a horse instead of a dog. However, his temperament is docile and relaxed, although he also likes to get into mischief with the three other Australian Shepherds and the cat that live in the family home.
Zeus is in excellent health
This breed of dog, also known as the Deutsche Dogge, originated in Germany, where it was bred to hunt large animals, protect property and serve as a pet dog. They are often characterized by their short life expectancy (7-10 years) and the occurrence of serious health problems, such as hip and elbow dysplasia, heart and stomach problems. Currently, Zeus is in perfect condition and even the veterinarian is surprised by his excellent health.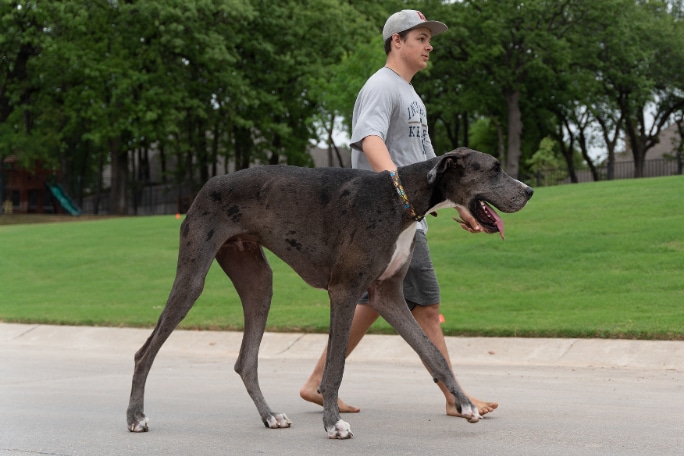 Great Danes are known for their imposing appearance and calm, even temperament. They are loyal, gentle and very affectionate to their owners, which makes them excellent life companions and family protectors. They are characterized by rapid growth and usually reach their maximum size in about a year.
Zeus is 3 years old, measures more than a meter (he exceeds it by 46 centimeters) and weighs 90 kilos.
As in the case of Zeus, the world's largest dog, Great Danes can become a real attraction for animal lovers and the curious who want to see one of these large dogs up close. A spectacle of nature.
I was an intern at the editorial office. When I saw their ad for a freelancer, I decided to come back. I'm a fan of series and movies, I spend my weekends at the cinema and my nights in front of Netflix