WhatsApp remains the most popular instant messaging app on the planet, but it still has plenty of room to improve some aspects of its functionality.
The best and clearest example of this dynamic is what we experienced and evaluated when testing other competing platforms, such as Signal or Telegram, where the range of features, security measures and other options is much more elaborate.
For years, WhatsApp has been repeatedly challenged for the security of its system, which for a long time did not even have encrypted messages, allowing almost anyone to read them.
Added to this is the uncomfortable and recurring scenario where sometimes an unwanted person has physical access to our smartphone and enters the messaging application to read our conversations, where we can approach and expose information of all kinds.
The fact that an unwanted person suddenly has access to all private conversations, with their messages, photos, videos and audios, can be a worrying as well as compromising risk for many people.
Fortunately, this situation is about to change thanks to a new security feature that was long overdue for many people.
WhatsApp blocks login to chats by fingerprint
According to an article from WABetaInfo, WhatsApp beta 2.23.8.2 for Android has integrated a new privacy feature that allows users to block individual and group chats using a pin code or their own fingerprint.
To block a chat, users simply tap on the contact information or group name to select the corresponding protect and block option: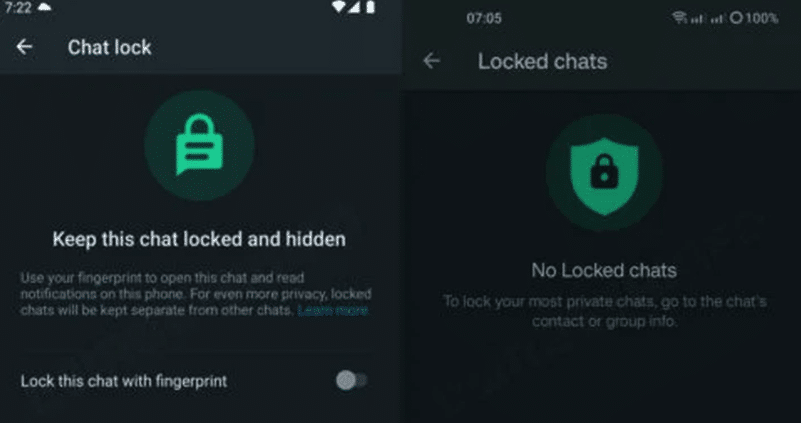 By enabling this connection filter, chats blocked by PIN or fingerprint will be moved to a separate tab to better organize conversations.
According to the interface screenshots, if someone tries to open blocked chats but does not follow the configured validation process, WhatsApp will ask to delete the entire conversation before they can enter the chat window, which will appear clean.
This new privacy feature is much more convenient and functional than the option to restrict access to all of WhatsApp by PIN or fingerprint.
Unfortunately, this feature requires you to validate your identity every time you open the app, whereas this new feature would greatly simplify things by limiting access to a few user-selected conversations.
We'll have to wait for the beta release for all Android users.
I am a student and I am part of the editorial staff of thesilverink.com. I have the chance to enjoy writing, however, I also like to discuss all subjects and especially anything related to Science.